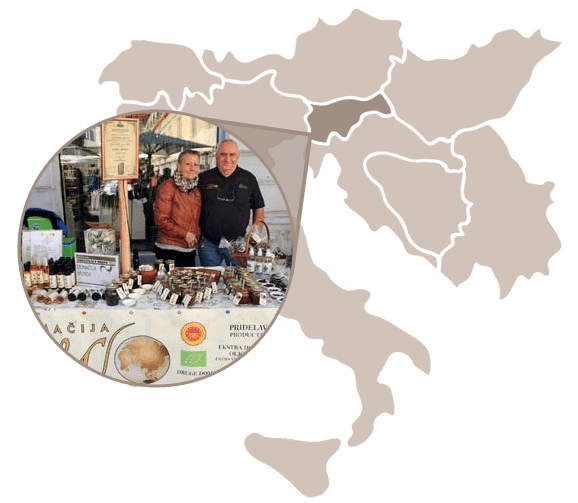 About us
We are Domačija Munda, which on Liminjan hill on a little more than two hectares (all around the house) we have planted a little more than 500 olives over 10 different varieties, so for the production of premium extra virgin olive oil from organic production with all necessary certificates, main varieties from Istrian whitefly, leccino, Piran bug, pendolin, Piran blackberry, frantoia, maurina…, as well as olives for investment, of which the Piran curve (štorta) is considered to be the most important, santa caterino in ascolano tenero.
From these basic crops, we upgrade the matter with: olive spreads, several different flavors, pickled olives: in brine, spicy brine, brine with herbs and in olive oil, olive oil with additions: spicy olive oil, rosemary, lemon, orange, ginger and gold leafs (22 carats).
In addition to the above, we also produce on the homestead from our own crops: persimmon, kiwi, fig, blackberry, apricot and olive jams, homemade chocolate with pieces of olives, persimmons, figs and lavender, figs in spicy olive oil, tomatoes with herbs in olive oil, lavender, sage and rosemary rose water (hydrolate), lavender flowers in Piran sea salt
You can buy EDOOSI PDO oil - extra virgin olive oil with varietal olive oils in packaging from 100, 250, 500, 750 ml to 3 or 5 liters (smaller quantities in a glass, those from 3 and 5 liters in bag and box packaging). All oils while in stock, can also be tasted and chosen on location before bought.
Extra virgin olive oil of organic production.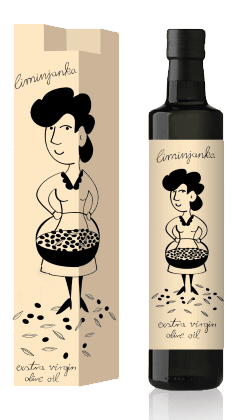 Due to respect for the environment and care for our health, we decided on organic production (BIO).